Find out why women's poker is becoming strong in the US these days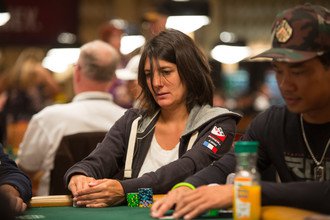 Did you know that women's poker is rapidly gaining popularity across USA? More and more poker rooms are welcoming women into their tournaments and joining cash games. With this growth, there are now more opportunities for women to improve their skill and confidence in playing casino games. With the High Heels Poker Tour, Lauren Fillia is giving women the chance to hone their skills and earn at the same time. Women's poker paved the way for the launching if the High Heels Poker Tour. It was conceived in June 2007 in Florida with a vision of giving women not only tournament experience but also the necessary exposure and tools so they can make their way up the professional gambling ladder and become the best poker player they can be. Any lady who wants more than just home- and internet-based playing know that it is hard to come across tournaments that nurture their skills and allow them to play more competitively.
A lot of newcomers have joined the tour and they bring with them a fresh competitive perception and a chance to bet on womens sports. The tour has grown by heaps and bounds that it has now included competitions throughout the East Coast. It has also co-sponsored the World Series Of Poker Circuit Ladies Only events. Its growth has been most event during the previous summer at the WSOP. The series was tremendously successful for the HHPT as well as its members. Almost 60% of the women who played were members of HHPT and earned a collective amount of $200,000 in various tournaments. Two ladies ended up on the final table at the Ladies Only Event. They are Debbie Mitchell from Miramar, Florida who collected her cash earnings for the second time. She landed on the 6th spot and earned $45,000. The other woman who made it was Marla Crumpler from Fort Lauderdale, Florida. She bagged the 5th spot and became $60,000 richer. The tour has an exclusive tournament for ladies which give them a competitive environment to play in.
However, no tournament is spared from issues. In one HHPT event, some men decided to participate. This was managed by Faila offering a bounty. There is a promising future for High Heels and women's poker as more ladies are joining, especially with plenty of women only tournaments making the rounds. They are also continuously looking for venues where they can promote and hone their skills.